In the 25 years Introworks has been in business, we've launched dozens and dozens of products that have improved the diagnoses and treatment of conditions from head injury to foot pain and virtually everything in between. Not every agency gets to work with products that ease pain, treat illness, and save lives. We're grateful that we do. So thank you from the bottom of our hearts. And lungs, kidneys, brains, bones, guts…
Here is a look at the types of products we've touched, and the parts of the body they impact.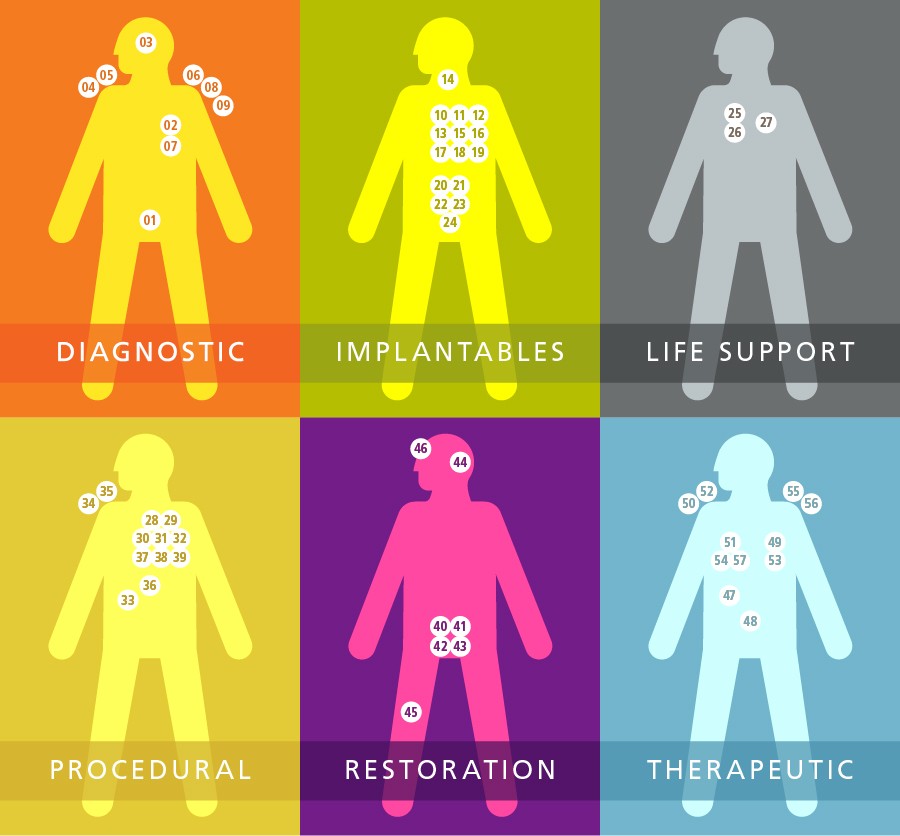 DIAGNOSTIC:
Prostate Cancer • Heart Attacks • Head Injury Assessment • Sleep Disorders • X-ray & Ultrasound • Sleep Apnea • Heparin Management • Oxygen Saturation • Diagnostic Infrastructure
IMPLANTABLE:
Heart Valve Replacement • Heart Valve Repair • Coronary Artery Disease • Obesity • Congenital Heart Disease • Spine Surgery • Bone Growth • SI Joint Pain
LIFE SUPPORT:
Portable Ventilator • Coronary Pulmonary Bypass (CPB) • Autotransfusion
PROCEDURAL:
Coronary Artery Disease • PCI • Atrial Fibrillation • Dye Reduction for Coronary Procedures • Peripheral Artery Disease • Drug Delivery • Pain Management • Electro-Surgery • Plasma Surgery • Chronic Angina
RESTORATION:
Vaginal Prolapse • Stress Urinary Incontinence • Fecal Incontinence • Hearing Loss • Wound Healing • BPH
THERAPEUTIC:
Kidney Dialysis • Obesity • Airway Clearance Disorders (CF & BE) • Non-Nutritive Sucking Development • COPD • Sleep Apnea • Drug Delivery • Pediatric Asthma

Got a medical device in development? Need to start a new conversation about your product? The launch doctors are in.